Skip to Content
Comprehensive Restorative Dentistry in San Antonio, TX
C. Roger Macias DDS & Alexis Pelekanos DDS uses the latest technology to provide outstanding restorative dentistry in San Antonio, TX. Our dentists can repair and preserve your best smile with standard dental procedures, including crowns, root canals, fillings, and dental implants. We save your natural teeth whenever possible and replace missing teeth so you don't have to live with a gap in your smile. We will restore the function and appearance of your best smile by monitoring your oral health and repairing the damage. Restorative dentistry solves current dental issues, eliminates pain, and prevents future problems. We'll improve the functionality of your bite so you can eat, smile, and talk with ease.
Get a Brand-New Smile
Our professional dentists can replace missing teeth with realistic and functional permanent prosthetics. Whether you're missing a single tooth, multiple teeth, or a full smile, our restorative procedure will restore your ability to talk, eat, and smile. Dental implants look and feel like natural teeth and don't require removal or special cleaning. The implant anchors directly to the jawbone to stimulate the nerves, mimic natural tooth roots and prevent bone decay. Crowns connect to the implant and match your existing teeth. With proper care, this prosthetic can last a lifetime. Your new teeth will look, feel, and function like your natural smile.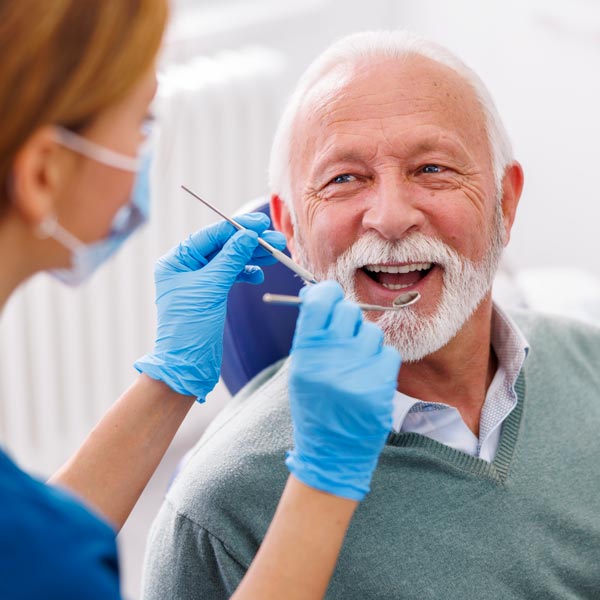 Dentures, Partials, and Bridges
Missing teeth puts a strain on your bite and can lead to decay and disease. Our dentists prevent this by replacing gaps with artificial teeth. Treatment depends on where teeth are missing and what condition the remaining teeth are in. We can replace one or more missing teeth with dentures, partials, or bridges. Dentures hold to the gum with a close-fitting seal and an acrylic gum-colored base made to match the natural appearance of your gums. Dental bridges are a series of crowns fused together to fill empty spaces between natural teeth and are held in place by existing teeth. All our removable prosthetic treatments ease the strain on the bite and prevent damage to teeth and gums.
Fix Damaged Teeth With Customized Crowns
Protect the health of your teeth with customized crowns to match your natural smile. Crowns, inlays, and onlays restore functionality to weak, decayed, or worn-out teeth. These hollow tooth-shaped caps are bonded with dental cement and help reverse the effects of cavities by replacing decayed enamel. Filling cavities protects and preserves natural teeth. Inlays fit over the cusp of the tooth as a single piece, whereas crowns cover the entire exposed portion of the tooth. Crowns can also be used to replace missing teeth in correlation with a dental implant. Our dentists can restore the shape and function of broken, worn, or damaged teeth.
In-Office Solutions for TMJ and Sleep Apnea
Our clinic offers symptom-relieving solutions for TMJ disorders and sleep apnea conditions. Both of these prevalent conditions can be treated by our professional dentist. Patients with a TMJ problem may experience jaw pain, difficulty chewing, or locking and clicking of the jaw. This discomfort is due to an inflamed temporomandibular joint, where the jawbone connects to the base of the skull. When this joint is inflamed, jaw movement is compromised. Our dentists can ease your symptoms by providing muscle relaxants and anti-inflammatory aids and realigning the teeth to relieve strain from a misaligned bite. We also practice dental sleep medicine using oral appliances to treat obstructive sleep apnea.